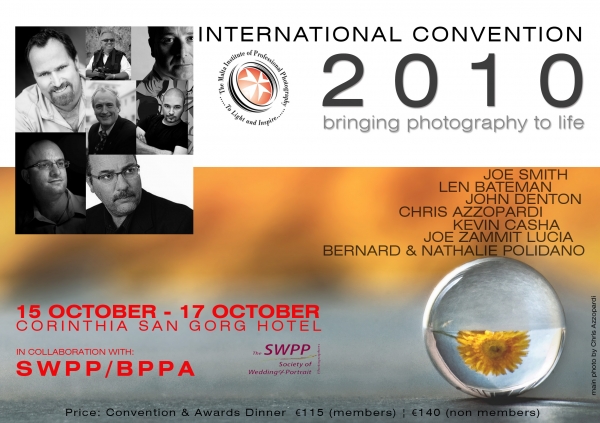 MIPP INTERNATIONAL CONVENTION IN COLLABORATION WITH SWPP
The MIPP is looking forward for its next international event which will be organised early in spring 2011.
As part of this convention 8 members successfully completed their qualifications with 5 members obtaining Licenciate level, another 2 Associate level and one obtaining Fellowship. This convention also proved the ideal setting for the MIPP to launch its new revamped website which has already proven very successfull.
This years' speakers included a mix of foreign and local speakers amongst others John Denton, Kevin Casha, Joe Zammit Lucia, Len Bateman, Bernard & Natasha Polidano, Joe Smith and Chris Azzopardi. Over the 3 days attendees were presented with both lectures in which speakers delved into a variety of subjects as well as the opportunity to work side by side with these well known photographers.
The Malta Institute of Professional Photography successfully organized its annual International conference in collaboration with the UK based Society of Wedding and Portrait Photographers. The conference was very well attended with more than 60 local delegates participating.